Quadra Wood Decking
Western red cedar is known as the most stable of British Columbia's softwoods. Western red cedar decks remain flat and straight, and resist checking. This makes it the ideal wood for decking, particularly in damp climates.
Quadra offers the following decking options: 2 x 4/6, 5/4 x 4/6and S4S:

A deck made with Western Red Cedar, one of the world's most beautiful woods, is apt to be one of the best looking decks in the neighborhood. But Western Red Cedar decks have much more going for them than good looks alone. Extending living space to the outdoors, integrating home and landscape, making use of damp or uneven terrain and giving a contemporary look to a traditionally-styled home are just a few of the ways that decks make life a little better.
If you would like more information about Decking, please fill in the following information below and a sales representative will contact you shortly.
Knotty Grades Of Western Red Cedar Decking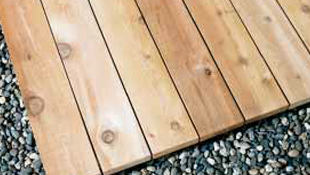 Widely used by homeowners and builders, this category of knotty decking
combines the high manu facturing standards required for deckboards
with a hole-free knotty appearance. This category limits the size and
quality of characteristics to provide an economical and enjoyable knotty
deck. Custom Knotty decking may be applied as received and is a
natural choice for home deck builders, residential builders, and commercial
applications where a durable knotty material is desired. Available
unseasoned only.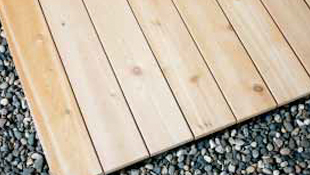 Rustic charm at its best. Durable, well manufactured Western Red Cedar
decking that comes ready to use. This sound and tight-knotted decking
limits both the size and quality of characteristics to meet the highest
buyer expectations. The smooth, skip-free dressing over the entire face
makes it the ideal deck surface. The top choice where the natural beauty
and lasting charm of a knotty deck are desired. Available seasoned or
unseasoned.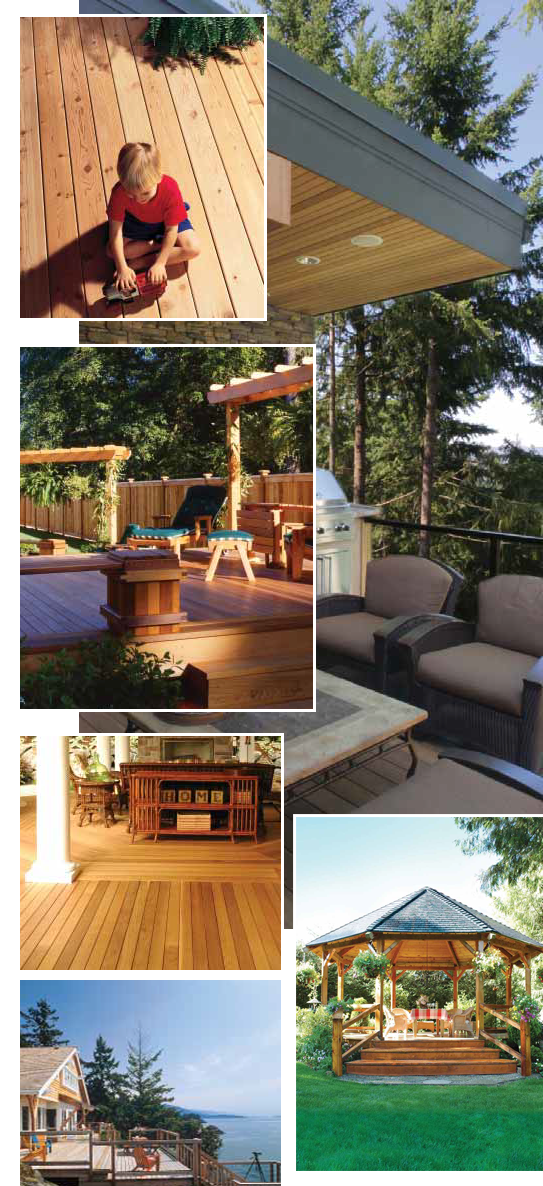 Specifying Western Red Cader Decking
To simplify specification, decking is now available in four grade categories offered exclusively by members of the Western Red Cedar Lumber Association. These few easily understood categories of decking provide a choice of quality clear grades or rustic knotty grades for outdoor decks of any style and budget.
Once the decision is made to build a deck, the choice of decking material is just as important as good design and quality construction. In today's environmentally conscious society, the natural choice is Western Red Cedar.
All wood used in the outdoors must be protected against decay and insect attack. Not only is Western Red Cedar one of the few woods with its own preservative oils, its freedom from pitch and resin makes it an excellent base for protective coatings. And cedar has other natural qualities that make it the best choice for decking. It is the most stable of British Columbia's softwoods, so Western Red Cedar decks stay flat and straight and resist checking.
Western Red Cedar decks are firm but resilient underfoot, not hard and unyielding. The wood is light weight, easily worked and ideal for almost all types of finishes. It has an elegance that complements any architectural style and a beauty that blends into all landscapes.
Whatever the reasons for building a deck, there is just one natural choice of decking material. Available in a wide range of grades and sizes, and price-competitive with lesser materials, Western Red Cedar decks are the beautiful, practical, long-lasting complement to any home.